Sales Techniques and Tips
General Tips -- terrific techniques to help you manage, present, and close
Telephone Tips -- dial for dollars with these tips
Sales Training -- programs to optimize your sales performance
Motivation -- need to get your motor running? Try these messages
Books/Tapes -- read and hear these sales techniques and methods
Software -- software to help you clinch the deal
Magazines -- need current tips - try these
Associations -- learn from others
Sales Links -- gateway to 300+ sales links, including techniques and tips
Sales Vault -- gateway to many Web sites. Offers free monthly magazine.
Sales Rep Central -- gateway to additional sales sites.
Jay Abraham: How To Create A Unique Selling Proposition -- very useful article on how to get clients to remember you.
Alan J. Zell, Ambassador of Selling -- useful articles and other information from a sales pro.
HowBIZWorks Sales Tips & Techniques -- useful free article.
AskASalesPro.com -- provides free, confidential answers to all of your sales questions.
Sales Autopsy -- horror stories so that you can avoid these mistakes.
High Probability Selling -- book based on "studying the selling style of 312 top salespeople (the top one-percent) in 23 different industries." Book for purchase. Can download first four chapters for free.
Sales Tip Web Site -- tips submitted by readers on site of sales trainer.
Monster.com Sales Tips -- tips written by various people on preparation, presentation, and post-analysis.
Sales Tips -- tips on presentations, persuasion, motivation, etc. Free newsletter.
Sales Articles -- a few articles on sales techniques.
Marketing Survival Kit -- in addition to marketing, contains sales letters.
The Best Sales Techniques in the World -- article with some sales tips. Doesn't live up to its title.
How to Succeed in Sales -- from Learn.com. Overview of entire sales life, with some technique pages.
JustSell.com -- articles and more to help you sell. Twice monthly newsletter.
Let's Talk Selling -- offers newsletters on selling and sales management, and a daily e-learning program. Provides extensive collection of articles for subscribers and a limited number for free to non-subs.
Back/Top E-mail Search InfoTech Marketing
Business by Phone -- resources to help professionals use the phone, conversationally, to prospect, qualify, sell, and service customers, without rejection.
Telephone Sales Techniques -- from Learn.com. Useful introduction for free. Must pay nominal annual fee to access more advanced.
Back/Top E-mail Search InfoTech Marketing
Online Sales Training -- from the University of Wisconsin. Can view chapter excerpts for free.
Foot in the Door -- offers Cold Calling for Cowards seminar and free sales tip of week by e-mail.
Miller Heiman -- numerous sales training approaches and private/public training solutions. Books, tapes, and CDs available.
Dale Carnegie -- offers sales training seminars and courses.
Back/Top E-mail Search InfoTech Marketing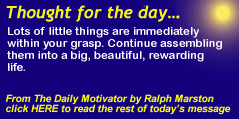 Monday Morning Motivation -- a new version of Monday Morning Motivation will be uploaded to this site, usually on Wednesday evening. On Monday morning, just come to this page, download the new version, and print it out for your staff, or yourself! Plus, we've got copies of earlier editions, so you can find just what you're after!
Sales Motivation Solutions -- quotes and articles for motivation.
Back/Top E-mail Search InfoTech Marketing
Nightingale Conant -- books and tapes on selling.
Dartnell -- provides sales training programs. Newsletters, audio, video, books, and workbooks.
Back/Top E-mail Search InfoTech Marketing
Win Squared Software -- first software program to predict the actions of the other party and recommend strategies and tactics for you. WinČ contains more than 600 tactics for making appealing proposals and convincing the other party to accept them. Offers free Tactic newsletter.
Exel-lent Marketing Formulas -- Excel add-in with 55 functions for sales and marketing pros. Assists with daily tasks, sales force size analysis, sales forecasting, and more.
Back/Top E-mail Search InfoTech Marketing
Selling Power -- magazine with terrific articles about sales techniques and management. Other information also, including a Source Book.
Sales and Marketing Management -- mission is to provide a much-needed community for sales and marketing executives one place to get information on how to do their jobs better, share best practices with peers, get continuing education, network with colleagues, and receive exclusive research and other valuable tools that will help advance their careers. Searchable archives, reports, and resources.
SAM Magazine -- Sales, Advertising, Marketing. Free hardcopy subscription. Back articles available by browsing online.
Presentations -- written for individuals and organizations who create and deliver presentations. Articles track the latest technology and trends in the presentation marketplace, provide information on presentations hardware and software, help readers build their creative and delivery skills, and identify the best practices of people and organizations leading the way to effective communication. Free subscription available. Searchable.
Journal of Personal Selling and Sales Management -- devoted to the encouragement of professional and academic thinking, exchange, and research in the wonderful world of selling and sales management. Has some abstracts from other sources on-line and can purchase full articles.
Back/Top E-mail Search InfoTech Marketing
National Association of Sales Professionals -- comprised of dynamic men and women who have distinguished themselves as leaders in the rapidly changing world of sales. They have committed to advancing their job and financial security by earning recognition as a Certified Professional SalesPersonTM (CPSP). This enhances their prestige as the best-of-the-best within their respective employer and industry. As such, NASP members are top achievers and generally rank in the upper 10% of their field or company in terms of sales performance.
Strategic Account Management Association -- comprises the knowledge and experience of its practitioner members, the expertise of its consultant members, and the collaborative endeavors of its research partners. The association is organized around an on-going process of generation and dissemination of knowledge on strategic account management, utilizing various meetings, educational forums and publications to disseminate learning as well. Members obtain much of the info. for free; non-members must pay.